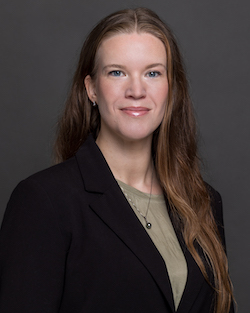 Emma Robertson
Emma graduated from the University of Toronto as a mature student, with an Honours BA in history and European studies in 2016. While at the University of Toronto she was selected to travel to Bosnia and Herzegovina, publishing work through the European studies program.
She earned her law degree from the University of Leicester in the United Kingdom in 2018. While at Leicester, Emma served as Vice President of the Information and Technology Society. Returning to Canada, Emma completed the NCA exams and Law Practice Program, and was a Student-at-Law at a plaintiff personal injury law firm in Toronto. She was called to the Bar in 2023 and continued in the field of personal injury law before joining Goldfinger Injury Lawyers.
Emma's background in sales cemented her passion for being of service to others and achieving results. Through personalized service, she excelled at meeting the needs of her distinguished clientele.
Emma's approach is one of compassion and empathy with her clients. Her experience in plaintiff personal injury law taught her there is recourse and justice for those who have suffered wrong at the hands of others. Emma has appeared before the Ontario Superior Court of Justice, License Appeal Tribunal and Small Claims Court. She fights for hardworking people like her grandparents who, through no fault of their own, could have used a strong legal advocate more than once in their lives but didn't have one. Emma is committed to providing excellent service while advancing the interests of her clients to secure the results which they deserve.
Outside of the law, Emma is a music lover, amateur chef, baker and travel enthusiast. She enjoys staying active and spending time outdoors.
Education
LL.B , University of Leicester
Served as Vice President of the Information and Technology Society
B.A., Hons University of Toronto, 2016
Honours BA in history and European studies
Jurisdictions Admitted to Practice Ontario

Professional & Bar Association Memberships
Law Society of Ontario