Bicycle / Motorcycle Injury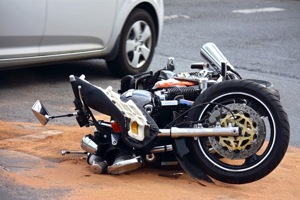 Have you or a loved one sustained injuries in a bicycle or motorcycle accident? If you have then we are your advantage when it comes to a personal injury claim.
We know what it is like on the road and how drivers behave towards both bicyclists and motorcyclists. If you have been injured, it is vital that you protect your rights and get the necessary medical treatment you need. In order to fully recover for your loss you need a skilled accident lawyer who can help you navigate the complexity of your case. Our legal professionals will assist you with understanding the complexity of the personal injury case, vehicle and traffic laws, medical concerns, insurance laws and issues, negligence and liability laws as well as be your advocate to the insurance company. Contact us so we can provide a free consultation and evaluate your case.
Our Motorcycle & Bicycle Accident Lawyers in Toronto will ensure that you get the care, treatment and compensation which you deserve following your accident. Retaining Goldfinger Law immediately after your bicycle or motorcycle accident may be the difference between having a successful case and getting the medical attention and compensation that you need; and not. Call Goldfinger Law today for your free consultation.
Cars and trucks have to share the roads with bicycles and motorcycles. Some municipalities and cities are designing and re-designing their roadways to be more bicycle friendly. They are also designing more bicycle paths.
When a car hits a light bicycle, or a motor cycle; it doesn't take an expert to tell you that in all likelihood, the driver of the bicycle or motorcycle will have sustained the majority of the damage.
Bicycles and motorcycles do not have the same safety features as cars. They are not equipped with the basics like seatbelts or airbags. They are not equipped with re-enforced bumpers to absorb collisions. Some cars on the roads are the equivalent of light armoured vehicles. And when these vehicles make contact with a bicycle or motorcycle; even the slightest impact at the lowest of speeds may result in catastrophic injuries.
There are a number of things you can do to stay safe while biking.
There are safety measures which cyclists can take to minimize injury such as wearing a helmet or wearing heavier clothing, but this may not be enough. Helmets may save lives, but the injured accident victim whose life is saved by the helmet still needs to be looked after; and that's where Goldfinger Injury Lawyers steps into the picture.
Client Reviews
"I couldn't be any happier"
I am Ulises M from Oshawa Ontario Canada. I was riding my bike on Athol Street in Oshawa when some idiot ran a red light and hit my bike. I went flying into the air. The next thing I remember is waking up in a hospital bed in the Oshawa Hospital with a killer headache and a cast on my left arm. I couldn't move properly or think straight. Everything was a painful blur. I was really mad and in a lot of pain. My girlfriend found Goldfinger Law on the internet. Brian himself came to visit me in the hospital. He was really nice and knew exactly what to do. He had an action plan which he put in place right away. The next thing I knew, I had an occupational therapist, physiotherapist, social worker and rehab coach all working with me to make sure that I got better. They worked with me at home when I got discharged from the Oshawa Hospital. Brian had the insurance company of the other driver pay for all of these services. I couldn't believe how he got that done, but he did and I'm really grateful of that. Brian eventually settled my case for $475,000 out of Court. I was really happy with the amount Brian got me, and that I didn't have to go through a trial. I don't think I would have lasted at trial because I get so nervous and I can't remember a lot from my accident because my memory isn't so good anymore. But Brian made sure that the case settled for good money out of Court and I couldn't be any happier with his work. Brian is the best and was pure class the whole way handling my case. Go Brian Go!