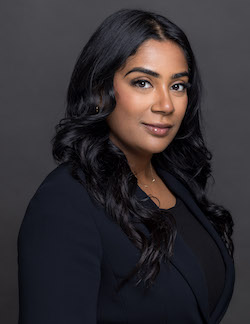 Jananni Puvanendran
Jananni Puvanendran earned her Bachelor of Arts in Criminology with Honours from Wilfrid Laurier University in 2016. She started her legal journey in the autumn of 2016 at City University of London, England, where she earned her Bachelor of Laws, in 2018.
Jananni has always been passionate about advocating on behalf of minority groups. Her parents immigrated from Sri Lanka in 1993. Jananni is a first-generation Canadian and is the first lawyer in her family. She understands the needs of new Canadians and the immigrant experience in Canada.
During her time in England, Jananni worked as a clerk at a law firm which focused on family, immigration, real estate, and civil litigation. In 2019, she returned to Toronto to complete her NCA accreditations. Jananni articled at an insurance defence firm in Toronto, where she gained valuable experience working with insurance adjusters and seeing how insurance companies work.
Following her call to the bar in 2023, Jananni found her niche in helping innocent accident victims and their loved ones with their serious personal injury claims. Jananni is passionate about advocating on behalf of innocent accident victims and disability claimants to get them the compensation which the deserve
Jananni is fluent in English and Tamil. Outside of the law, she enjoys watching movies, exploring the great outdoors, traveling, and spending time with her family and loved ones.
Education
GE LL.B, City University of London, 2018
B.A, Wilfred Laurier University, 2016
Jurisdictions Admitted to Practice Ontario

Professional & Bar Association Memberships
Trial Lawyers Association
Law Society of Ontario