What is #GoldfingerSpeed?
#GoldfingerSpeed™ is the official, not-for-profit, running and athletic club of Goldfinger Injury Lawyers. The practice of law is hard. Lawyers, whether you believe it or not, are people too; just like you!
Lawyers need time to blow off some steam and unwind. And what better way than going out for fun run! There's no better way to get some fresh air, exercise, and come back to the office with a clear mind, ready to tackle the next case.
Brian Goldfinger, founder and directing lawyer of Goldfinger Injury Lawyers is an avid runner. He was introduced to the sport by his then girlfriend (now wife) in 2008. Since that time, Brian has participated in various races around Toronto, Southwest and Eastern Ontario.
Brian encourages all members of his law firm to be active, and #GoldfingerSpeed is just one of the ways of getting that message across. It's also a great way to spend time with colleagues, friends and family.
Do I have to be a member of Goldfinger Law to be a part of the #GoldfingerSpeed team?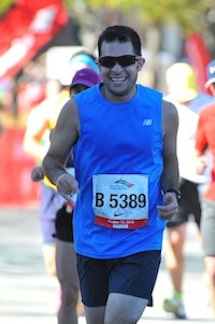 Absolutely not! We accept team members from all walks of life and from diverse backgrounds. It's not just lawyers who need a break! All it takes to be a member of the team is to be enthusiastic and dedicated to running and training.
How do I become a member of the #GoldfingerSpeed team?
Send an email to info@goldfingerlaw.com along with your name and phone number and explain what fitness goal or race you're preparing for. Also tell us why you want to be a member of the #GoldfingerSpeed team. We accept members of all levels of expertise. Whether you're a beginner new to running or training, or a seasoned expert, we'd be happy to have you aboard the team provided you share the same enthusiasm and commitment towards running and training as we do.
#GoldfingerSpeed and Mettle Multisport
Goldfinger Injury Lawyers, is the lead sponsor Mettle Multisport; a not-for-profit, triathlon club based out of York Region. Test your Mettle! You can follow Mettle on Twitter @MettleMultisprt or visit their website by clicking the icon below.